Vertical Exhaust
This is how I hacked together a vertical exhaust stack for my Mog for not much money.
Mogs are stinky and mine is particularly so, since it's (currently) burning lubricant as well as diesel! It's pretty unpleasant when using the backhoe and I've had the smoke blown into the cab while plowing on occasions when the wind wasn't favorable. I decided that a vertical exhaust stack would solve the problem, but I didn't want to spend a lot of money.
My Mog was originally owned by San Bernardino County, CA (the guy I bought it from had gotten it from them at an auction). They had made several modifications including installing a air pre-filter (mounted on the ROPS), and modifying the exhaust system. I believe that it originally had a vertical exhaust stack but when I got it, the exhaust simply stuck out the side behind the battery box. One of the odd parts that came loose with the truck was some rusty old pipe; I didn't pay it much attention at first.
While trying to figure out how to hack together a vertical exhaust, I took another look at the rusty pipe and realized it was an exhaust pipe that would connect to the existing pipe and move the outlet near to the ROPS. The flexible section was rusted solid, but I was able to free it up a bit with liberal applications of WD-40 and brute force. I got a couple of bits of 3" double-wall stove pipe from Lowe's and painted them black - the end of the flexible exhaust pipe fit right inside. I cut the mounting bracket from the air pre-filter and welded a piece of angle to it; the stove pipe attached to the angle with a couple of hose clamps.
The two sections of 3" double-wall stove pipe cost $14.89 (60") and $8.10 (24"). The cap cost $7.81. A rattle can of high-heat black paint cost $3.94. Grand total $34.74. The other stuff I had lying around.
---
Update
I didn't like the way the chimney cap worked - it tended to direct the exhaust downward. So I fabricated a new cap from a hinge and some aluminum plate I had lying around. Works great and looks like one of the big rigs! See the picture at the bottom of the page.
---
Here's the overall result:
---
And a side view: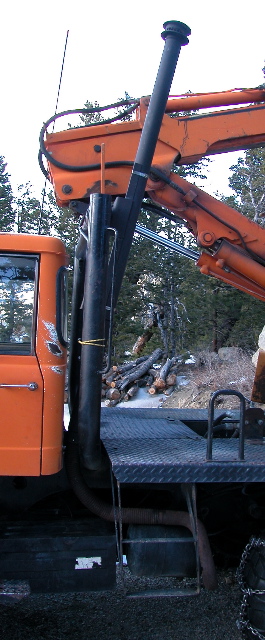 ---
The lower pipe: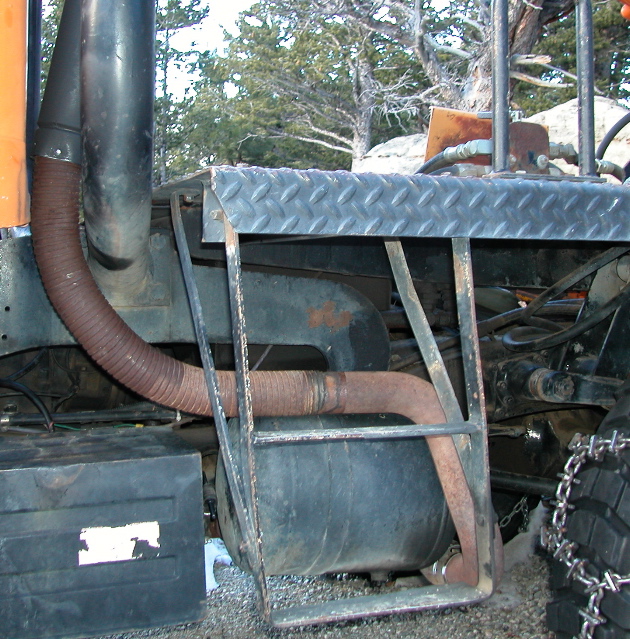 ---
The ROPS mounting bracket from the front: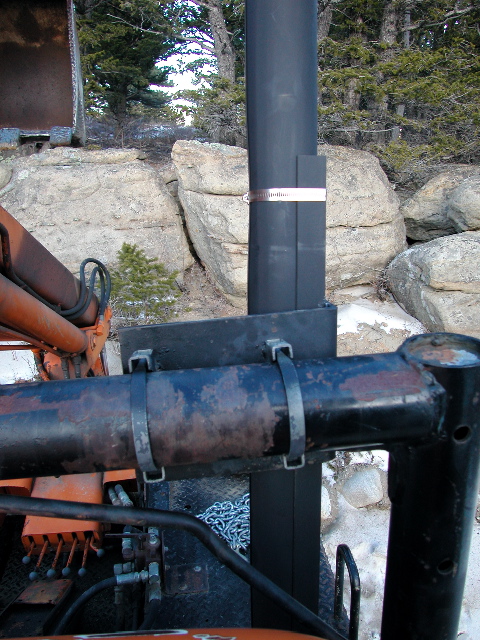 ---
The ROPS mounting bracket from the rear: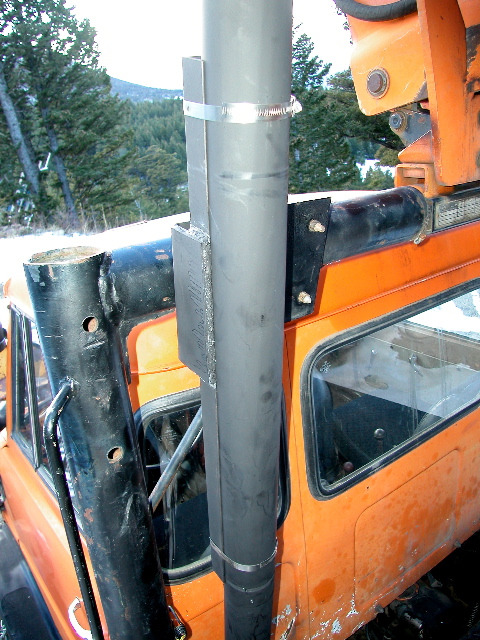 ---
The new cap: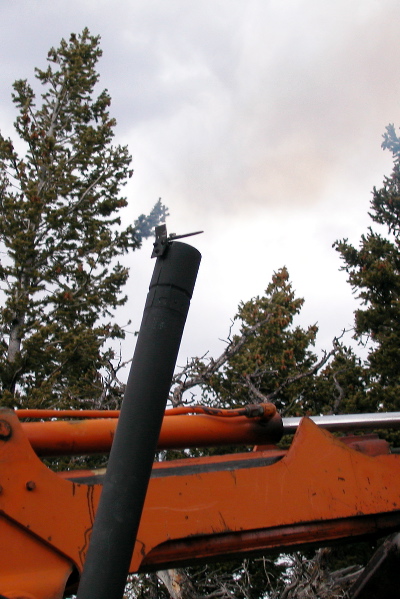 ---