Snow Plow Cutting Edges
This describes how I installed new polyurethane cutting edges onto my old (and beat-up) Schmidt K3 snow plow.
The skid shoes on the plow were worn out (and didn't work very well anyway on the rutted and rough gravel road that I plow). After a bunch of research (and a few unsuccessful hacks), I decided that replacing the steel cutting edges with polyurethane would (i) provide much better performance, and (ii) eliminate the need for skid shoes. I decided on a 1.5 inch thick blade to (i) provide more "skid" area, and (ii) to provide more cushioning when hitting rocks.
I bought two polyurethane blanks from FallLine Corporation. You can specify just about any size and I decided on 76" x 6" x 1.5"; the 6" width will allow me to flip them over and use the other side once they are worn. They cost $212.04 each and the leadtime was a couple of weeks. I also ordered new bolts and nuts from McMaster-Carr Corporation - 20 Grade 5 zinc plated steel hex head cap screws 5/8"-11 x 3-1/2" and 25 Grade 5 zinc plated steel nex nylon insert locknuts 5/8"-11 for a total of $21.83. The old bolts and nuts were in rough shape, and I needed longer bolts due to the thickness of the polyurethane.
I removed the old steel cutting edges - this was difficult, because the old nuts didn't want to come loose. I spent a lot of time with an impact wrench, WD-40, a propane torch, and my 1" drive socket set. Eventually, I managed to get them all removed.
Next I used some scrap wood 2x4's to determine the correct cut for the front of the plow. Some measuring along with some testing and recutting got me the correct angles. It sure helped to have a compound miter saw. Once I was satisfied with the fit, I cut the polyurethane. It cut fairly easily, but I found that multiple shallow passes were needed; otherwise the blade would jam.
The next step was to drill for the mounting holes. I used my wooden prototypes to locate the first hole and the old steel cutting edges as a template. I used a 5/8" twist drill bit in a low-speed drill to make the holes; the polyurethane cut very easily.
I tried mounting the new cutting edges on the plow using the old steel edges as a mounting strip. I found that the steel edges interfered and I had to cut a corner off each of them. A plasma torch would have been the right way to do this, since the steel is very hard, but I don't have one - I used a portable band saw and got it done, but wore out a blade.
I was now able to mount the new cutting edges and here is the result: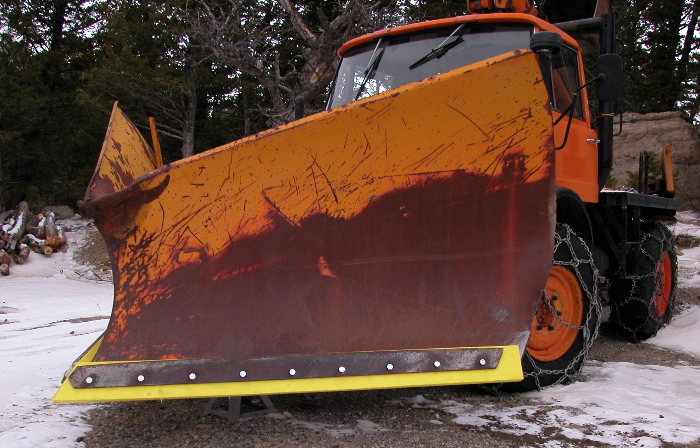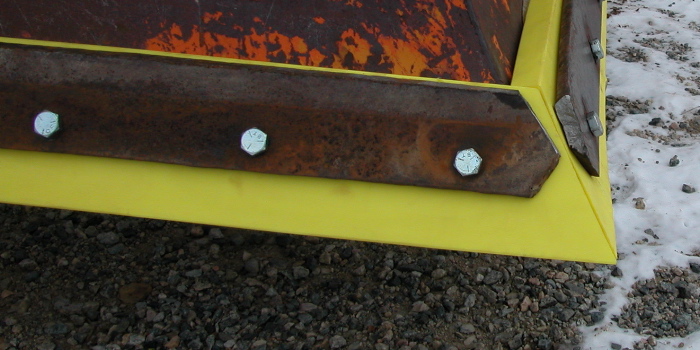 The new cutting edges are excellent - I was able to plow in 3rd gear with the plow in float and it just bounced over the big rocks (in the past, I'd had to slow down and even manually raise the plow in some places). Plus it was much smoother. Well worth the money and the effort.